ESDI Model 110100 – Water Vending Machine Controller
Incorporates NAMA® Multi-Drop Bus (MDB) Protocol.
Six Water Volumes – Bottle Rinse Option – Pause Vending – Nozzle Cover Control
Features & Options Settings:
• Vends Six (6) Water Volumes: Water volumes manually set and stored in non-volatile memory.
• Data Retrieval Capability: Using MDB, or industry standard DEX/UCS hand held computer (HHC).
• Optional Bottle Rinse Cycle: Activates after selection & prior to vending. Rinse water = 1/16th Volume.
• Optional Pause Mode: Allows vending to pause up to one minute, so customer can change containers.
• Optional Door Control: Activates 2 sec prior to vending & deactivates 1 sec after vending. (Many Uses.)
• Controls Several Vend Stations: Using only one payment device. Requires additional slave boards.
• Optional UV Flush Cycle: Removes accumulated hot water from UV lamp if idle for 30 minutes.
• Maximum Run Timer: Stops pump and terminates vending if the maximum vending time is exceeded.
• Low Water Monitor: Blocks coin deposits until water is once again present. (Set float above 5 gallons.)
• UV Lamp Shut Down and Lockout Input: Blocks coin deposits until manual reset.
• Relay Contacts are Isolated: And rated for any voltage up to 240 VAC, 3 Amps Max.
• Board Size: 7.5" X 6.25" X 2.8".
• Enclosure Size: 11.5" X 7.75" X 6", NEMA 4 Indoor Rated.
NEW WITH DEX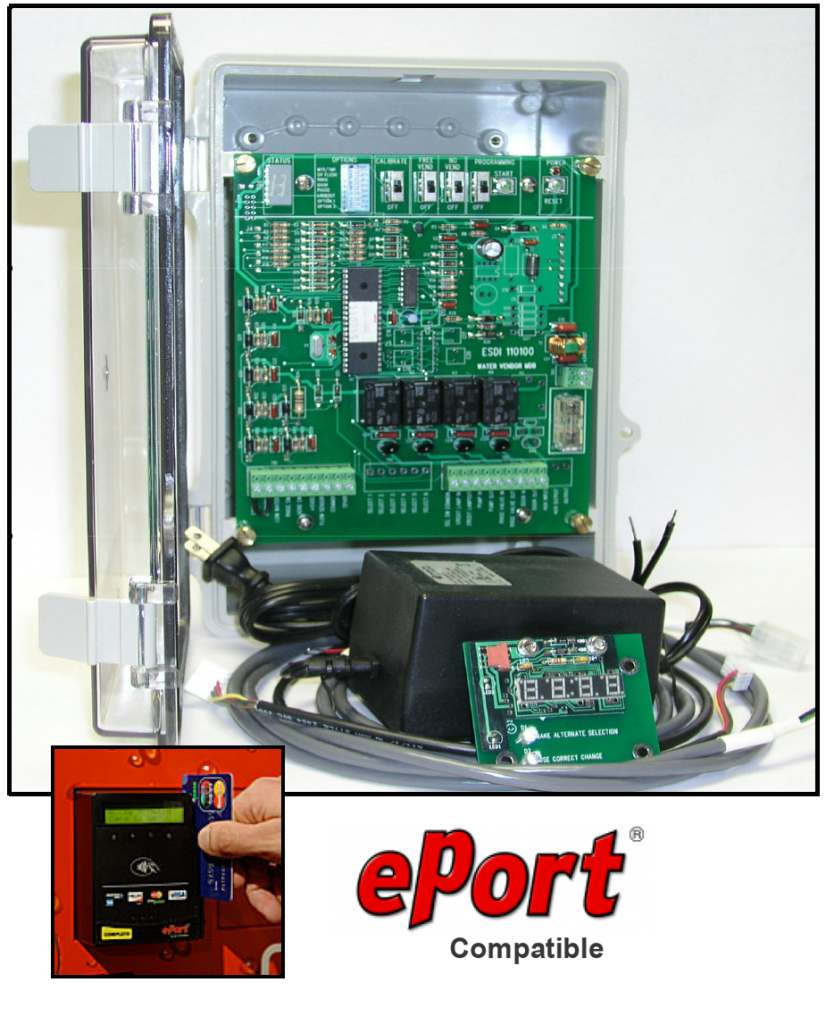 All of our products come with a Two-year Warranty. Your satisfaction is guaranteed.