ESDI Model 030400 – Water Vending Machine Controller
Incorporates UV Lamp Monitor & Flush Cycle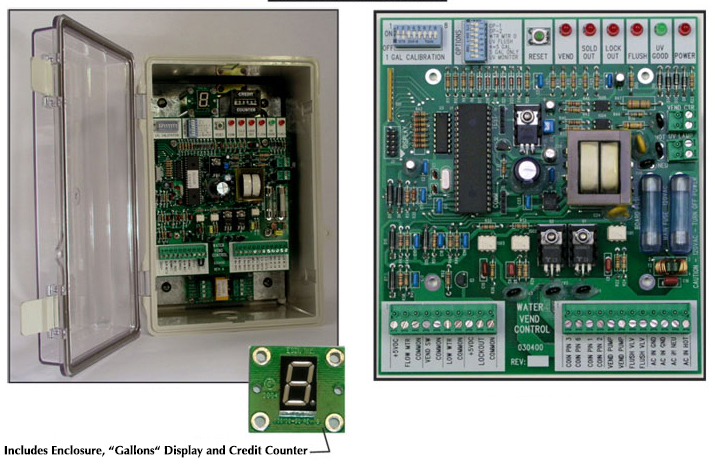 click to enlarge images
Downloads:
The Model 030400 Water Vending Machine Controller is an electronic circuit board assembly that controls the necessary functions of a single price, multi-vend, bulk water vending machine. This controller has many new features and options that make it cost effective and easy to use. A remote display board mounts on the front of your vendor, showing customers "Number of Gallons to Vend".

Features:
Precise metering of 1, 2, 3, 4, and 5 gallons in a single vend. (Requires Flow Sensor)
Selectable 5 gallons for the price of 4 gallons.
Interfaces with a single price (totalizing) coin acceptor (COINCO 9341-S or similar).
Selectable UV flush cycle to remove accumulated hot water from UV enclosure.
Maximum Run timer stops vending if time is exceeded. (Requires reset)
Low water monitor, goes "Sold Out" until water is present.
UV power monitor shuts down machine if UV lamp is off. (Requires reset)
Lockout input disables vending (Low-pressure, Flood, High TDS). (Requires reset)
Optional RS232 serial communications port for SCADA monitoring.
Power: 120VAC, 50/60 Hz.
Enclosure Size: 11.5" X 7.75" X 6", NEMA 4
Board Size: 6" X 6.75".
Display Board Size: 0.75" X 0.5"
All of our products come with a Two-year Warranty. Your satisfaction is guaranteed.